Sale!
AUKEY 30000 Power Bank 30000mAh USB-C with 30W Power Delivery and Quick Charge 3.0 for Smarphones Nintendo Switch PB-Y7
₱4,099.00
Huge Capacity: 30000mAh of power to fully charge your iPhone 8 9 times iPhone 8 Plus 6 times 9.7-inch iPad Pro 2.5 times or MacBook 2016 1.6 times. Utilizes an array of advanced charging technologies to meet all your device-charging needs
USB-C with Power Delivery: Fully charge the power bank with your MacBook 2016 original charger in 5.5 hours and charge your MacBook 2016 with the power bank at the same speed as its original charger
Qualcomm Quick Charge 3.0: Charge compatible devices up to 4 times faster than conventional charging
AiPower Technology: Adaptively charge almost any USB-powered device (including Android and Apple devices) at up to 2.4A
CHAT WITH US
Description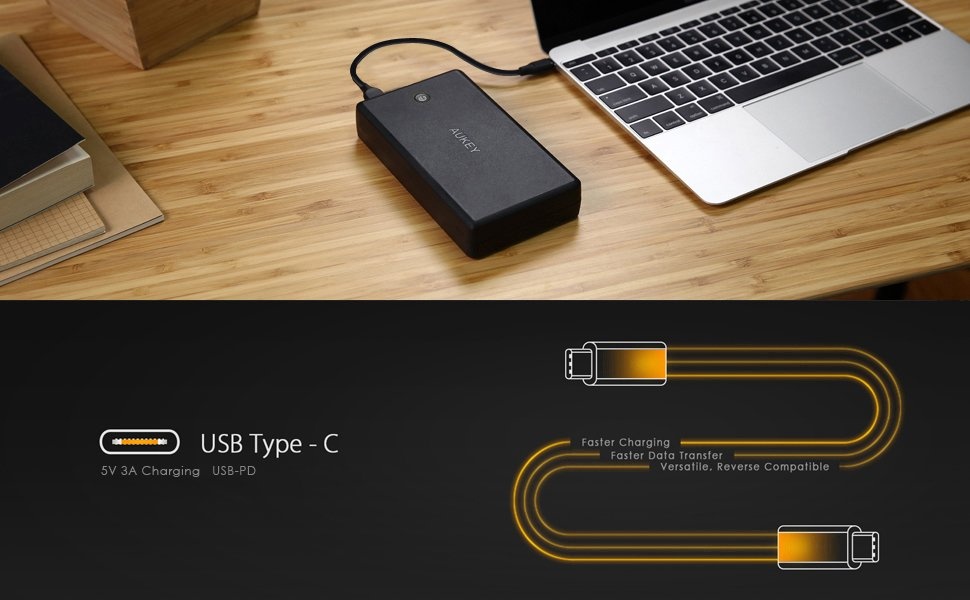 Convenient and Future-Proof Charging
This power bank packs a total 30000mAh of power inside its matte black shell. Use it to charge a USB-C laptop and Quick Charge device simultaneously at home or on a business trip or vacation.
USB-C Power Delivery
USB Power Delivery is a new universal multi-voltage charging standard that dynamically negotiates power output over a USB Type-C connection to safely and efficiently recharge a wide range of compatible devices. Fast charge the new iPhone X or iPhone 8+ up to 50% in just 30 minutes and use the same Power Delivery adapter to recharge a Type-C equipped MacBook or MacBook Pro at full speed. Consolidate your power with one charger for all your USB-C tech.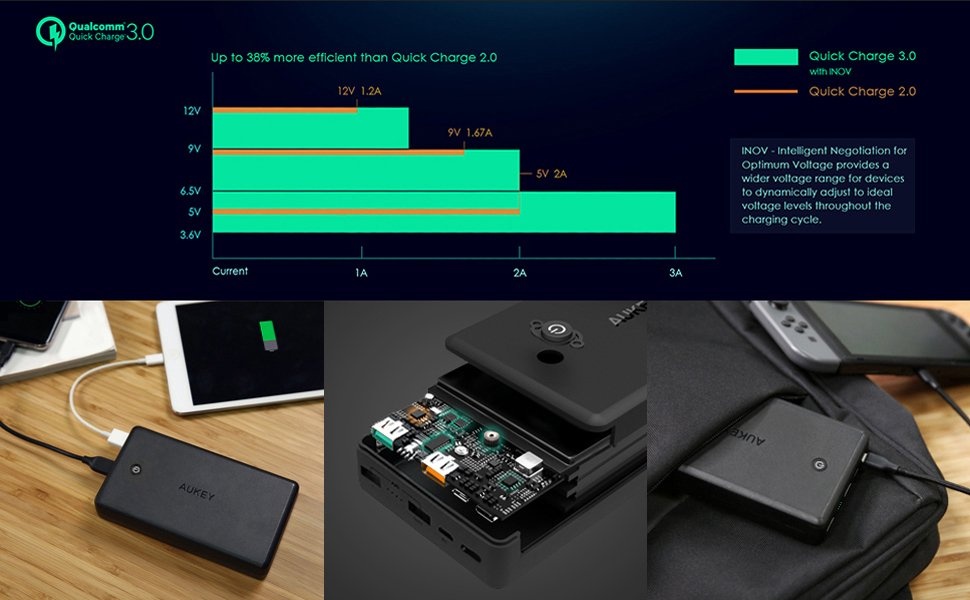 Qualcomm Quick Charge 3.0
Engineered to refuel devices up to four times faster than conventional charging. Powered by INOV (Intelligent Negotiation for Optimum Voltage) Technology for fine-tuned power output and more optimized charging cycles. Up to 38% more efficient than Quick Charge 2.0. Backward-compatible with Quick Charge 2.0/1.0 devices.
AiPower Adaptive Charging Technology
Tuned to support healthier battery function and faster USB charging speeds AiPower intelligently adjusts power output to match the unique charging needs of all your USB-powered devices. With up to 2.4A of dedicated adaptive output per green AiPower USB port your devices will each receive their safest maximum recharge rate.
Specifications
Model: PB-Y7
Capacity: 30000mAh / 98.05Wh
Charging Time: 16 hours
Micro-USB Input: DC 5V 2A
USB-C Input (PD): DC 5V 3A 9V 2A 12V 2A 14.5V 2A
USB-C Output (PD): DC 5V 3A 9V 2A 12V 2A 14.5V 2A 20V 1.5A
USB Output 1: DC 5V 2.4A
USB Output 2 (Qualcomm Quick Charge 3.0): DC 5V?6.5V 3A 6.5V?9V 2A 9V?12V 1.5A
Dimensions: 150 x 84 x 29mm / 5.91? x 3.31? x 1.14?
Weight: 553g / 19.51oz