Sale!
Feiyu Tech Vimble 2 Extendable 3-Axis Handheld Stabilizer Gimbal for Smartphones
EXTENSION FREELY FOR FANTASTIC FILMING: The Vimvle 2 can be extension from 11cm to 29cm make it easy to taking selfies and taking group photo. It gives smart phone wider frame and the beautiful scenery can be framed in easily
FACE TRACKING & OBJECT TRACKING: When connected to the Vicool APP, fingers slightly scratch the screen to lock the focus, and it can achieve face tracking and intelligent following with deep simulation to ensure the focus not to be out of the frame.
QUICKLY SWITCH MODE: Tilt to the right 45 degrees for a few seconds the gimble will change shooting direction from Horizontal to vertical. Connect the gimbal with Vicool App, and continuously click the function button for three times, the smart phone camera lens will shift from back and front quickly.
DISCOVER MORE FUN: Dynamic Time-Lapse photography, Panarama Shooting, Built-in Zoom slider, New trigger button, Intelligent App. More fun waiting for you to discovered
FLEXIBLE, CONVENIENT AND MULTI-FUNCTION: 5 hours running time, built-in Micro USB port allow you to charge the phone via gimble. The 428g high strength, strong and light body, with the storage bag, make it easy to carry
Out of stock
Description

SPECIFICATION
Compatible Smart Phones:Vimble 2 is compatible with iPhones series, Huawei P9, MI 5, MEIZU MX 6, Samsung S7 and other Android phones which width is between 57 and 84 mm. When used in landscape mode, the max payload is 210 g. When used in portrait mode, the max payload is 200 g.
Battery:7.4 V, 1300MAH, 9.62 Wh, Built-in Rechargeable Battery 1 Pcs. Battery could be charged by power bank with a USB cable when using it.
Function Modes and Other Functions:
1.Single tap: Switching between panning mode (Default mode) and lock mode.
2.Double tap: Panning and tilting mode. Entering panning mode by single-tapping in this mode (Default mode).
3?Triple tap: Switching to either rear camera or front camera in Vicool App. It does not work without the App.
4?Quadruple tap: auto-rotation mode, perfectly fit for time-lapse. You can set the start and the end and the route of rotation by hand in this mode. When setting is done, gimbal will be automatically rotated following pre-set route in constant speed, which was set in App before. The gimbal will stop at the end point and enter panning and tilting mode after finishing the movements, or you can exit this mode halfway by single-tapping function button or double-tapping trigger button (Check more details in manual).
5?Quintuple tap: Initializing the gimbal in order to get correct attitude parameters when it is not level or in abnormal.
Packing List:
1 x Vimble 2 Gimbal body
1 x Mini tripod
1 x USD cable
1 x Anti-lost rope
1 x Carrying bag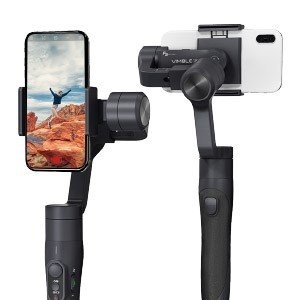 Two Working Mode:Landscape mode: Balancing mobile phones weighed differently by moving horizontal arm left to right.
Portrait mode: Just rotating the quick-release adapter and putting in smart phone, Simple Balance with sliding the smartphone up and down, It will be fine if smartphone can?t be balance well. Vimble 2 provides enough power to stabilize smart phone. The only impact without balance is on usage time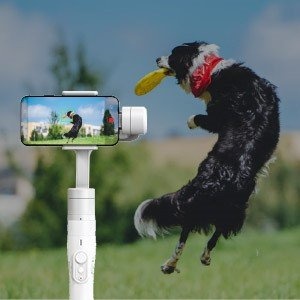 Object tracking:Fingers slightly scratch the scree to lock the focus, And it can achieve intelligent following with deep simulation to ensure the focus not to be out of the frame.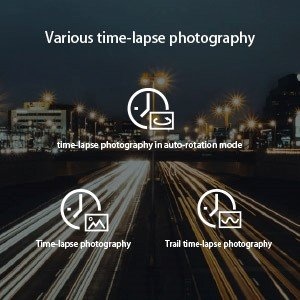 Various time-lapse photography:Trail time-lapse photography Time-lapse photography in the quiescent state Time-lapse photography in auto-rotation mode. Three time-lapse photography let you shoot more Interesting video.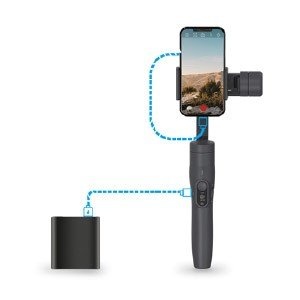 Long-lasting Working Time5-hours runtime for Vimbel 2, if including the dormancy it can work 10 Hours. Built-in Micro USB port, allow you to charge gimbal by power bank, shoot as long as you want.
Additional information
| | |
| --- | --- |
| Weight | 0.45 g |
| Dimensions | 35.3 × 7.27 × 6.09 cm |
| Warranty | 1 Year |
| Brand | |
| Color | |