PowerBot PB1020 Wireless Charger for iPhone 8 / X, Samsung Galaxy and Compatible Devices
₱899.00
JUST DROP & CHARGE (for compatible Qi enabled devices ONLY) – Charging made quick and easy with plug & play Qi technology, no driver required. (2.1A+ AC charging adapter is highly recommended) Universally compatible with all Qi enabled wireless charging devices or devices with Qi standard receivers, including but not limited to Samsung Galaxy S6 Edge, S6, S5, Note 5, LG G4, G3, G2, Google Nexus 6, 5, 4, Nokia, and many more!
INTELLIGENT & SMART IC DESIGN – Equipped with built-in intelligent detector and eco-friendly resister to prevent the devices from over charge, short circuit, over heating while preserving the battery life of the media devices, maximizing the charging output/efficiency as required, and minimizing energy consumption when idle ; allows it to be safely used with any Qi compliant devices.
SLEEK & CONCISE DESIGN – Compact, slim, fashionable, stylish, conventional, light weight & portable form factor to keep the charging area or desktop well organized and cable chaos-free. Deemed LED indicator with no beeping alert to adapt to the over night charging environment. One MicroUSB cables including.
ANTI-SLIP & SCRATCH-RESISTANT MATERIAL – Premium matte finished surface and anti-slip grip padding to avoid scratches and movement. 1 year manufacture warranty with responsive and satisfactory response.
USB POWER SOURCE – Work with any standard MicroUSB charger or standard 5V USB port with 1A-2.1A output. For optimal use, we strongly recommend using 2.1A adapter as input source. Qi charged compliant built-in or add-on receiver is required in order for Qi charger to work. 100% RISK-FRE manufacturer warranty included.
Out of stock
Description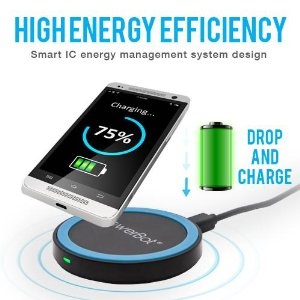 Smart IC Energy Management System
Overcharge, over-heating, short-circuit, and over-current protection.

High Energy Efficiency

Anti-Slip Padding

Plug and Play

Feather Light Weight